Acrylic on Canvas
L740mm x H895mm
Available for viewing at Midview City.
Shipping and Delivery
*FREE DELIVERY FOR SINGAPORE ORDERS ABOVE $2000 IN A SINGLE RECEIPT.*
Delivery and installation fee is $155 for first piece and $60 (below size of 1800mm and $100 above size of 1800mm) for each subsequent piece within Singapore. Learn more
Be covered by the Gallery 1819 Guarantee when you checkout with Gallery 1819
Acrylic on Canvas
L740mm x H895mm
Available for viewing at Midview City.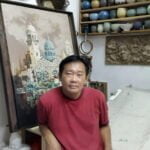 Ong Kok Peng (KP Ong) is a full-time artist with over 30 years of experience working with clay. He is a well-known ceramist and sculptor with a broad repertoire of skills and craftsmanship in creating works of art which are unique and beautiful. He had attended western painting in Nanyang Academy of Fine Arts and works with oil, acrylic, watercolour and Chinese ink as well, during his younger days. He had participated in numerous invited and group exhibitions locally as well as overseas.